Core Team Members
Françoise McNeil

Translation Coordinator and Translator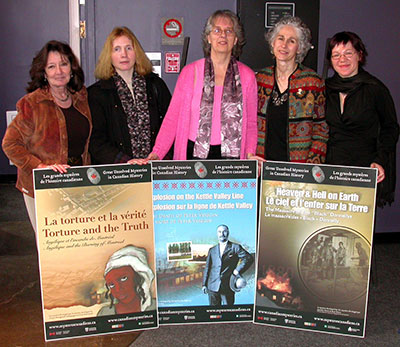 Françoise McNeil holds a BA in English Studies (Translation/Professional Writing), an MA in Comparative Canadian Literature (Literary Translation) and is currently enrolled in a Master's in History at Université de Sherbrooke. Her thesis examines the evolution of the social representation of spinsters in Québec in the 19th and 20th centuries.
As a professional translator, her work focuses in translation for the humanities. She is privileged to work with the Department of History at UVic (notably, Great Unsolved Mysteries in Canadian History and A City Goes to War), the Department of Education at UBC (THEN/HiER and The Historical Thinking Project), Bishop's University (the Journal of Eastern Townships Studies), the Revue d'histoire de l'Amérique française, and the Centre de réadaptation Estrie / Planetree Québec Network (person-centered approach to healthcare).
In addition to coordinating the work of the translation team for each phases of the GUMICH project, Françoise has translated three of the GUMICH mysteries (Where is Vinland?, Explosion on the Kettle Valley Line: the Death of Peter Verigin, and Death of a Diplomat: Herbert Norman ∓ the Cold War. In 2014, she is translating The Franklin Mystery: Life and Death in the Arctic.